Pioneering a new class of end-to-end AI systems focused on high-value marketplace decision making
CEO, Founder, Managing Member
Jim Stovell is the CEO of Stovell AI Systems, based in San Francisco. He founded the firm in 2014. Jim oversees product strategy and business growth as the firm continues to pioneer a new class of end-to-end AI systems focused on high value marketplace decision making. He manages a team of brilliant AI leaders. Stovell AI Systems live deployments have generated over $2 billion of directly attributable profit growth for customers across its energy and financial verticals.
Jim's prior experience combines success in marketplaces and leading technologies. Jim co-managed First Light Capital, a San Francisco hedge fund that generated 11 years of consecutive positive returns 2003-2013. In 1998 he founded and was CEO of Outpurchase, a SaaS e-procurement company, backed by Technology Crossover Ventures and American Express. Prior to that was he was the 5th employee of Omnicell (NASDAQ: OMCL), helping grow the company to 300 employees prior to IPO.
Jim graduated from Harvard with a BA in English and a focus on Applied Mathematics in 1991. As an undergraduate, Jim also studied Mechanical Engineering at MIT and worked in MIT's Laboratory for Manufacturing and Productivity and in the Cryogenics Laboratory.
EDUCATION
BA, Harvard University
Mechanical Engineering undergraduate coursework, MIT
PRIOR EXPERIENCE
First Light Capital, co-manager hedge fund. San Francisco, CA
Knowmadic, VP Sales, software. Cupertino, CA
Outpurchase, CEO, software. Mountain View, CA
Omnicell (OMCL), engineer, hardware & software. Mountain View, CA.
Vice President of Business Development - Energy, Chemicals, and Retail Marketplaces
Mike serves as the Vice President of Business Development for Energy, Chemicals, and Retail customers at Stovell AI Systems. In his role, Mike is responsible for customer success, live AI system configuration, customer acquisition and retention, and managing the company's partner program for these commercial marketplaces. He focuses on delivering unmatched AI-driven business value for our global customer base.

Mike joined the firm in 2020 and has played a central role in delivering well over $1B of profit generation for Stovell AI customers. He has directly managed AI system deployments and ensured the achievement of business performance for customers around the globe. Mike is an expert in Stovell AI's suite of commercial marketplace AI systems: competitor price forecasting, customer demand forecasting, and customer elasticity forecasting.

Mike's brings deep experience and a track record of achieving large scale financial success while working with major brands and complex marketplaces. Prior to joining Stovell AI, Mike spent 5 years supporting the largest retail accounts for Constellation Brands. Mike helped drive $2.3B in revenue growth at Constellation as he worked with major national accounts including Circle-K, 7-Eleven, Costco, Walmart, and Kroger. During his time at Constellation Brands his team was awarded supplier of the year from Walmart and 7-Eleven.

Mike graduated from DePaul University with a BA in Marketing in 2012.
EDUCATION
BA, DePaul University
PRIOR EXPERIENCE
Accunomics, Management Consultant for a Super Major in the Energy vertical
Constellation Brands, Business Unit Analysis Manager
Vice President of Engineering
Kedar Waghmode serves as the Vice President of Engineering at Stovell AI Systems and joined in 2019. He is responsible for the development and live-system management of Stovell AI System's new class of advanced end-to-end AI products. His team generates dependable high accuracy predictive systems, enabling enterprise-class scaling and adoption across the world's largest global firms, and ensuring strong customer ROI.
Kedar has a track record for driving engineering excellence that has fueled strong customer adoption and business growth among of a number of leading technology firms including in the enterprise AI space. He was previously a Lead Engineer at ParallelM (acquired by Data Robot) where he led the system management development of MLOps platform MCenter. Kedar also worked as a Senior Software Engineer at Springpath (acquired by Cisco) and as a Senior Software Engineer at Fusion-io (acquired by SanDisk).
Kedar earned his Master of Science in Computer Science from Syracuse University and was awarded Phi Beta Delta and Bachelors in Computer Engineering from Pune Institute of Computer Technology.
EDUCATION
BA, Pune Institute of Computer Technology
MS, Syracuse University
PRIOR EXPERIENCE
ParallelM, Lead Engineer
Springpath, Senior Software Engineer
Fusion-io, Senior Software Engineer
Chief Machine Learning Architect
Eugene Scherba leads machine learning development at Stovell AI Systems, and joined in 2019. He is responsible for the delivery of predictive machines that achieve superior edge in volatile marketplaces, the firm's technology strategy, and leading the evolution of development protocols in line with the industry's best practices. He also focuses on growing the team's ML capability and research and development.
Eugene has been involved in the ML industry since 2013, successfully engineering high function ML systems addressing complex predictive challenges. Previously, he worked on a real-time recommender system product at Vevo that involved making sense out of massive web-scale datasets. He also was the ML lead on an ML-driven content quality system at Livefyre, a product that eventually contributed to Livefyre's acquisition by Adobe.
Eugene has a BS in Biochemistry and Molecular Biology from Boston University. He also conducted computational research of human longevity at a Laboratory for Bioinformatics at Boston University and at BU School of Medicine.
EDUCATION
BA, Boston University
PRIOR EXPERIENCE
Vevo, Senior Data and Machine Learning Engineer
Livefyre, Machine Learning Lead
Baker Beach Labs, Developer and Technical Co-Founder
Jim Stovell
Paul Orlin
Tony Olson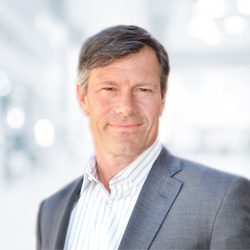 Jeffrey Ubben